The Lines We Trace is the latest poetry collection by Ann Vaughan-Williams.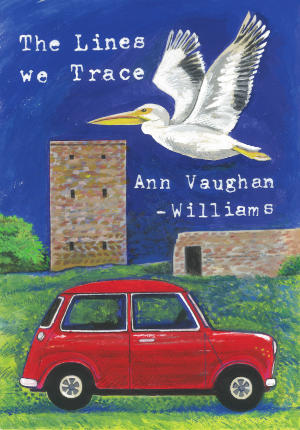 "A feast for the eyes
and ears…The Lines
We Trace offers
glimpses into little but
very big moments
over the course
of a lifetime."
Ann will be launching the book at Love & Dye on 14 April, with poetry, song, and refreshments.
Book Launch: Saturday 14 April 2018, 7.30pm
Love & Dye, 187 Worple Road, London, SW20 8RE
(2 minutes from Raynes Park Station, and on the 57, 131, and 200 bus routes).
Let us know if you're coming on Facebook or email annvaughanwilliams@gmail.com.
Be a hero! Download, share, print the poster (A4, PDF).
About the Book
Ann Vaughan-Williams is keenly attuned to the voices and habits of those around her. She often deals with difficult moments in life, such as illness and loss, but there is also birth and renewal — all approached with her characteristic humour and joy. (Tamar Yoseloff)
The Lines We Trace is a feast for the eyes and ears. It offers glimpses into little but very big moments over the course of a lifetime: from the first flickerings of consciousness in Uganda to languorous excursions along the River Wandle to the most serene pleasures of grandmotherhood. (Alex M. Frankel)
£3 from the sale of every book will go to the Bwindi Watoto School for orphans in Uganda, which Ann visited on her recent return to Uganda.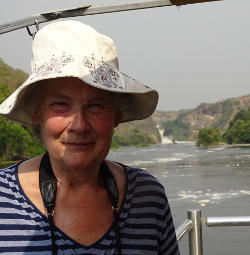 About Ann
Ann Vaughan-Williams née Kerkham was born in Uganda in 1941 and came to Norfolk when she was fourteen. She worked in Coventry, then Tooting, and at Bethlem and Maudsley Hospital as a Mental Health and Psychiatric Social Worker. For many years she taught Creative Writing in Merton, Kingston and Richmond, and is an active member of South London's poetry community.
She was an editor of The Long Poem Magazine for five years, has co-edited poetry anthologies with Merton Poets and Whatley Writers, and is the founder of Write Afresh, a weekly writing group primarily for adults with mental health issues. She has an MA in Creative Writing from Bath Spa University.
Poems from The Lines We Trace have appeared in publications such as The North, Haiku Quarterly, Seventh Quarry, London Grip, Magma, and Slipstream, Sea Poems (an art pamphlet), and the London Rivers anthology. Her first collection was Warming the Stones (1992).
Audio
Listen to Ann Vaughan-Williams reading from The Lines We Trace.